The ever inticipated Joburg Fashion Week Autum/ Winter 2011 kick starts on Tuesday15th-19th February 2011!
With a rather interesting line up, it seems this year the show has gone to greater heights. Designer David Tlale The Legendary King of Fabric himsel will be showcasting yet another jaw dropping couture line on the 19th February 2011 at the Nelson Mandela Bridge, 21:30pm (tickets have unfortunately sold out!).
My eye is also on one of my favourite Designer of all time, Anisa Mpungwe of Loin Cloth and Ashes, her show will take place also on the 19th February 2011, at the Bus Factory 20:30pm (tickets available at R165, buy 10! lol)
Here is a more detailed line up of the over all show....
16th February 2011
19:15pm - Suzaan Heynes - Bus Factory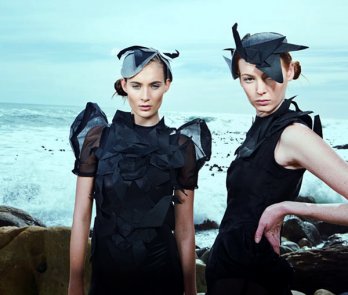 website:
http://www.africhic.com/
34 Long Street, Cape Town
(021) 422 2828
20:30pm - Errol Arendz (i call him the God of Fashion!) - Bus Factory
66 Hout Street, Cape Town
email :
ea@errolarendz.co.za
21:30pm - Kulk CGDT - RandClub
17 February
19:15pm - LISP / WILD FIG - Bus Factory
20:30pm - Sperro Villiotti - Joburg Art Gallery
20:30pm - Abigail Betz - Joburg Art Gallery
18 February
19:15pm - Karabo Finger -Bus Factory
20:30pm - Bongiwe Walaza - Bus Factory
21:30pm - Staain Louw / Thula Sindi - JHB Art Gallery
19th February
19:15 - Abigail Keats/Tarts -Bus Factory
20:30pm - Anisa Mpungwe of Loin Cloth and Ashes -Bus Factory
21:30pm - David Tlale - Nelson Mandela Bridge
website :
http://www.davidtlale.com/
David Tlale Studios:
62 Juta Street, Johannesburg
Pop Up Boutique
70 Juta Street, Braamfontein